Communication is key – get it right.
So you want to get your marketing right? You may already have ideas on what you want to do or change. Maybe you are just starting out and there's nothing in place yet.
You can talk to me now or…
You can just jump straight in to getting in touch with me, and we'll explore how I can help. Below are some ways people often work with me. Or…
Or.. have a little fun yourself first
If you want to do some work yourself first, jump to the 'planning' section. It's a guided document with 10 key planning questions – something I get all of my clients do do anyway. It will ge a great exercise for you, and would give our conversation a head start.
What helps you most?
You may have nothing in place, you may be up and running. You may be clueless, or may have a very clear idea. What do you need help with?
Get the help you need.
I'd love to help businesses who are passionate about what they do. If that's you, and you could do with some help, get in touch.
Attach your key question document – that would be so helpful.  And we'll see where our conversation takes us.
The 10 Key Planning Questions
This eight-page document takes you through ten key questions to get clear before you do anything marketing and communications. To help you answer these questions, helpful tips have been included, as well as a demo business to give you an idea.
The document can be used for new businesses as well as existing ones. It's good and healthy practice to regularly check in and evaluate whether you're on the right track or have to make some changes.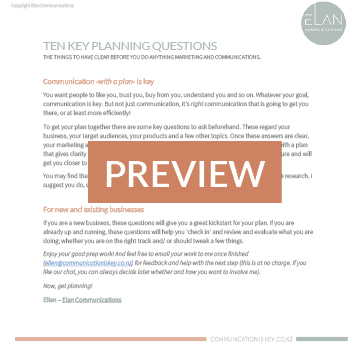 Get the 10 Key Planning Questions
Your details are for me only. I may send you one follow up email. I won't share your data with anyone.